Children need to be included in the process of infidelity recovery.
No single article or series of articles can adequately address all the ways in which infidelity can negatively impact children.
Whether toddlers or young adults, the children of a couple in the throes of infidelity are an unintentional party to the indiscretion and its many repercussions.
Surviving infidelity is difficult... and there are no shortcuts and no guarantees of success!... especially when there are children in the home.
Week in and week out, after the affair is over, I address couples who are committed to rebuilding the foundation of trust, respect and love that infidelity shakes. Infidelity need not be a lifelong sentence. It can be overcome, and couples can actually emerge from the process with a stronger, more durable bond.
When children live in the home of parents recovering from the aftermath of an affair, or even when adult children no longer live at home but are close to their parents, a difficult recovery process becomes even more challenging. Now, the needs and emotions of both partners must be considered in light of the needs and emotions of a child or children.
In this article, I will look at some of the important aspects of surviving infidelity when the affected couple has children. My goal, when possible, is to prevent as much avoidable harm to the children while also fostering the elements necessary for the couple to weather the storm.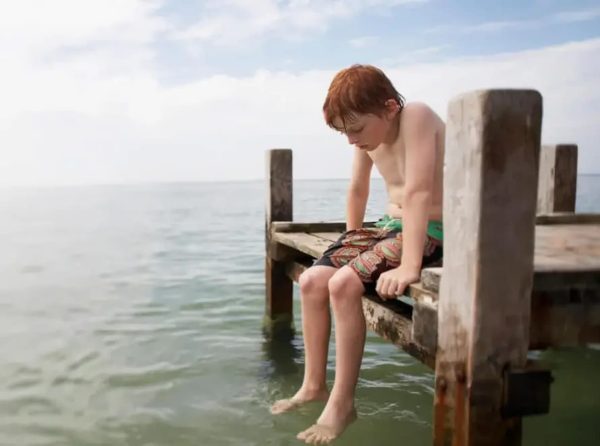 It is a delicate balancing act.
While I'm a veteran relationship and family counselor, I'm not a child psychologist. Depending upon the circumstances, parents are often well advised to consult a child mental health specialist on this delicate matter. Surviving infidelity sometimes takes a team!
That said, when dealing with infidelity I know enough to observe that children virtually always benefit when their parents can tend the wounds of infidelity, persevere, and sustain a happy, loving, nurturing home.
Let's now examine what–and whether–to tell your kids when you're a parent trying to rebound from the shock and pain of infidelity.
Dealing with infidelity requires precision decision making regarding what to say and what not to say to the children.
Surviving Infidelity: The Children
When dealing with infidelity, what to say to kids about Dad's or Mom's affair, and when, is a question – like so many others that arise when helping couples survive infidelity–that has no strict rules or one-size-fits-all responses.
Among the most important variables are the ages of the children; whether Dad and Mom are still living under one roof; what the children already know or sense; and the probability, if the kids don't know anything, that they will discover the rift between their parents.
An important barometer of what to say, and when to say it, is the atmosphere in your home. If it is one where one or both parents are frequently angry, crying, depressed, or openly criticizing the other parent, the children need to understand – at least at the most basic level, why this is happening. For children, not knowing the reason things are the way they are is often very confusing and stressful.
In offering guidance here, my intention is to speak to couples who are working together after the affair is over to repair the damage to their relationship caused by infidelity, and who are committed to following the 7 Survival Steps that I've spelled out in previous articles. The advice herein would be different in the case of a couple who have no hope of reconciling or who don't wish to preserve their relationship.
I prefer not to state a specific age before which children won't understand the general concept of marriage betrayal, and hence should not be told anything. There is an age when a discussion of infidelity is 'too soon,' and it will vary depending upon each child's emotional and intellectual development.
Most six-year-olds can understand that 'mommy had a boyfriend other than daddy,' without needing to be overwhelmed with any specifics.
Above all else, when speaking to your children about infidelity, you must be truthful and answer their questions without dismissing them. Your children are members in your family unit as are the adults, and hence, entitled to an explanation as to why the family is suddenly in turmoil.
That said, unlike the partner who was betrayed, who has a need and a right to know details of the affair, even young adult children do not need to know the full details to understand, in general, what occurred.
To Tell or Not To Tell?
For young children and young adult children alike, the parents should acknowledge that the infidelity took place; it was wrong, and caused the partner who was betrayed pain; and that, together, the parents are working to rebuild the trust and bonds that are at the core of any successful relationship.
If the kids become aware of the infidelity before they are told by their parents, the information parents give them may differ from a scenario wherein the children are first discovering the infidelity from the lips of their own parent or parents.
In the first case, where the kids already know, parents need to investigate how they discovered the infidelity and take proactive steps to protect their children from the negative spotlight that infidelity often brings. Some of the harshest scenarios are when kids are teased about their Mom or Dad 'cheating' by classmates or playmates who may have learned about the affair from those who know the 'outside partner' of the parent who strayed.
While I always advise parents to tell as few people as possible if their couple is trying to recover from infidelity, the 'outside partner' is often not discreet when it comes to whom he or she shares the details with.
When children are learning about the infidelity for the very first time from the lips of their parents, they should be told that this is a private family matter that is not to be shared with friends or teachers. In fact, it is usually advisable for children not to share the news of the infidelity with other family members, including grandparents, aunts, uncles, and cousins.
In some instances, it is never necessary to tell your children, even older teens or young adults, about the infidelity.
For example, if the affair was a one-night stand that occurred during an out of town business trip – and the 'outside partner' is virtually certain not to surface again or share details with anyone the kids will ever encounter, then there is no reason to clue them in.
An important additional consideration, to tell or not to tell, as noted above, is the atmosphere in the home. Children should not be left to wonder why their parents are fighting so often, or sleeping in different rooms, or not speaking to one another.
What children, especially younger children, might deduce is the cause of their parents' unusual behavior may be worse than the reality. Often, children left in the dark, assume their parents will divorce, when, in fact, their parents are committed to remaining together.
Simultaneously, it is very common for children – without concrete information to the contrary – to conclude that they are the cause of their parents' quarrels.
When parents are caught up in the emotional whirlwind of infidelity, they sometimes overlook the fact that their child or children are suffering, too. In many instances, the childlike bubble of having a wonderful family is burst overnight, leaving kids feeling insecure and fearful.
Children Feel the Turbulence of Infidelity
Infidelity is like a stone dropped in a still pond, the repercussions reverberate out touching more and more people in wider and wider circles. Children, unfortunately, are the first to feel the impact after the parents themselves.
As with any family trouble, parents must keep their children informed, answer their questions honestly, and reassure them–often, that they are loved and safe. For children, not knowing the reason why things are the way they are, is often the greatest hardship.
The best scenario for kids is when their parents remain faithful to one another and avoid infidelity. After that, the next best scenario is when their parents are able to reconcile, repair the damage, and forge a new relationship that is steeped in trust, respect, and love.
In addition to the children being affected, there are other negative effects adultery has on a family.
Most often the assistance of a relationship professional who specializes in infidelity is required to help you survive infidelity. Below are sources where you can find qualified therapists.
Get the tools you need to survive infidelity: